The most iconic celebrity wedding dresses of the past 60 years
When it comes to wedding dresses, there's never been a shortage of amazing, innovative designs and no group proves this more than celebrities. Celebrity wedding dresses come in all colors, lengths and styles, but one thing they all have in common is their extravagance and potential to become memorable, iconic pieces of history. Who can't picture Kim Kardashian in her mermaid Givenchy gown or Solange Knowles in her floor length cape dress? (If you need a reminder, that was the sixth outfit Knowles switched into during her wedding festivities…did I mention celebrities also love to change clothes at their weddings?) Let's take a look back through the years as we recall some of the most iconic celebrity wedding dresses of each decade.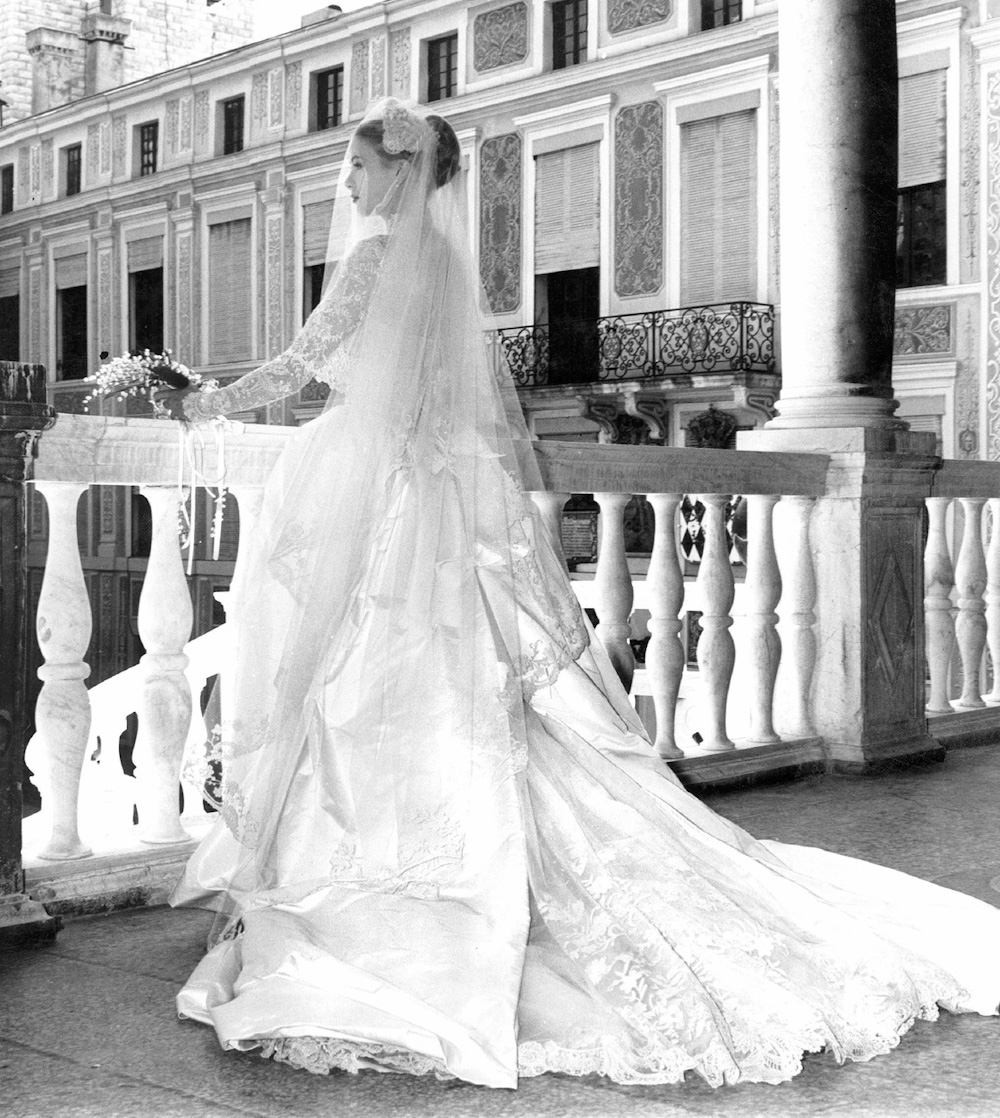 The 50s – Grace Kelly, 1956
Perhaps nothing yells iconic more than the stunning gown worn by American actress Grace Kelly when she wed Prince Rainier of Monaco. Grace was already royalty in Hollywood and after her lavish wedding to Prince Rainier, every bride wanted to have such a romantic ceremony of their own. The pearl-studded, long-sleeved gown was a parting gift from Grace's former studio, MGM, which had a tradition of providing their female stars with their wedding dresses. Helen Rose, the studio's Academy Award winning costume designer, was recruited to create the elaborate gown which was worked on for six weeks by three dozen seamstresses. The gown was made of a fitted lace bodice and bell-shaped satin skirt which was fused together with a pleated waist. Unlike other royal brides, Grace chose not to wear a tiara and attached her veil to a beaded juliet cap instead. She also chose to carry a prayer book with her down the aisle, which was covered to match the dress. The final look was elegant, unique and served as the perfect dress for Grace's transition from movie star to full-fledged royal.
The 60s – Priscilla Presley, 1967
Priscilla Beaulieu was just 14 when she met Elvis Presley on an Army base in Germany. After courting for eight long years, the couple was finally married at The Aladdin Hotel in Las Vegas. The future Mrs. Presley was 22 at the time and claims that her search for a wedding dress ended up taking months. She finally settled on a flowing beaded silk-chiffon gown, which was trimmed in seed pearls. The pure white gown featured a lace neckline, full-length sleeves and a simple A-line silhouette that spilled out into a small train. Her three-foot veil was secured to her signature beehive hairdo with a rhinestone crown. In an excerpt from her novel Elvis and Me, Priscilla spoke of her dress hunt saying, "Disguised in dark glasses and a hat, I shopped every exclusive boutique from Memphis to L.A. where, despite my disguise, I was paranoid enough to think people recognized me. Finally someone suggested a little out-of-the-way shop in L.A…it was here that I found my wedding dress. It wasn't extravagant, it wasn't extreme—it was simple and to me beautiful."
The 70s – Bianca Macias, 1971
When actress Bianca Macias married Rolling Stones frontman Mick Jagger, her dress was the complete opposite of Priscilla's when it comes to modest necklines. In fact, it wasn't a dress at all! Perhaps it was a sign of changing times, but to the shock of all, both Bianca and Mick opted to wear leisure suits for their day of holy matrimony. Bianca, who was four months pregnant with their daughter Jade at the time, stunned in a tailored Yves Saint Laurent Le Smoking jacket. Her pregnancy prevented her from being able to button a blouse under her jacket so Bianca went completely without one and wore nothing under the plunging neckline. Also breaking tradition was Bianca's choice to elegantly attach her veil under a large, oversized hat. She was certainly not a conventional bride, but her chic outfit made for an instant classic and iconic fashion moment for weddings in the 70s.
The 80s – Princess Diana, 1981
The late Princess Diana incorporated all the details of an iconic royal gown in the dress she wore to marry Prince Charles in 1981. Lady Diana Spencer was just 21-years-old, but it was a gorgeous fairytale wedding fit for a princess. The dress has been called one of the most famous dresses in the world and was a closely guarded secret during construction. British fashion designers David and Elizabeth Emanuel designed the dress to be "something that was going to go down in history, but also something that Diana loved," and go down in history it did! The silk dress was embellished with frills, flounces and bows, sumptuous fabrics, jewels, embroidered lace, crinolines and corsetry and who can forget that never ending 25-foot train? Diana's enormous skirt was supported by layers of petticoats while her ruffled collar and puffed sleeves drew attention to the fitted bodice. A tiny 18-carat gold horseshoe studded with diamonds was sewn into the back label of the dress while a tiny blue bow was sewn into the waistband of her larger-than life Victorian-style gown.
The 90s – Celine Dion, 1994
If you were alive in the 90s, then chances are very high that you remember the Marie Antoinette-inspired creation Celine Dion wore when married her manager Rene Angelil in 1994. With its long sleeves and form-hugging bodice, the extravagant Mirella and Steve Gentile gown took more than 1,000 hours to create. The dress was the perfect choice for Celine who topped off the look with a seven pound tiara that the singer had to have it sewn into her hair. Just looking at the headpiece is enough to give you a headache! The tiara contained more than 2,000 Austrian crystals and looked like something straight out of a fairytale. The blushing bride's dress also featured a 20-foot train which required the help of eight bridesmaids—all of Celine's sisters—to keep on track. Thank God for a large family!
2000 – Present – Kate Middleton, 2011
We all remember where we were on April 29, 2011 when Kate Middleton stunned the world in a custom wedding gown designed by Sarah Burton of Alexander McQueen for her nuptials to Prince William. The contemporary wedding dress for the Duchess of Cambridge reflected a new generation of the British monarchy. The slim-fitting gown showed off Kate's slender frame with a strapless corset overlaid with a lace bodice. The nipped-in waist and padded hips recalled Victorian corsetry while the detail on the lace incorporated the four emblems of the UK: the rose, daffodil, thistle and shamrock. The dress also featured a high neck which plunged into a deep V-shape and drew attention to the sweetheart neckline. Six different types of lace were used to create the overlay of the skirt. Kate completed the look with a Cartier halo tiara that was loaned by the Queen and was the bride's "something borrowed." The Duchess also had a blue ribbon sewn into the hem. Based on sheer memorability, Burton's design deserves every accolade it gets!